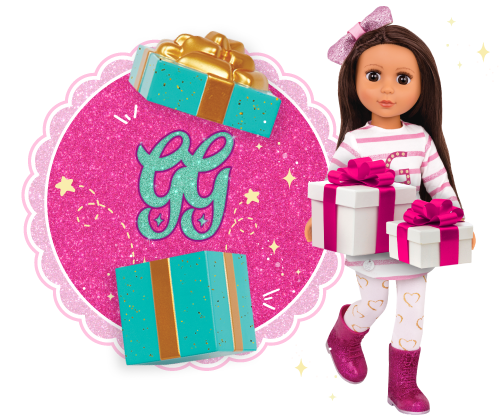 Giving is just as sweet as receiving, don't you think? The Glitter Girls love to surprise each other with presents, big or small. Whether it's a fresh batch of donuts, a homemade sweater, or that one special toy, giving shows our loved ones that we care. Plus, let's be honest – gift wrapping can be so much fun! 
To help you find the perfect gift for that special little someone, here's a list of our favorite toys of the year.  
For Little Ones Who Love Dolls
Give the gift of friendship with a Glitter Girls doll! Thanks to their vibrant personalities and colorful fashion, Glitter Girls dolls make excellent gifts for kids with big imaginations. 
Fully posable, Glitter Girls dolls have bendable arms and legs, and their heads can rotate from side to side. They can also stand up on flat surfaces, so kids have no trouble posing them during playtime. Switch out their outfits in a breeze and style their hair with bows – anything is possible with Glitter Girls! 
The Glitter Girls love to bake and share their creations with their friends!
If there's a little baker in your life, check out our wonderful selection of playsets and accessories from our Sweets & Treats collection. These toys are loaded with fun features and they come with detailed play food that will make your mouth water! 
For Kids Who Loves Ponies
Does your little one love equestrian toys? Check out our selection of dreamy Glitter Girls toy horses, stables, and horse-riding accessories! Every horse dazzles with glittering hooves, sparkling manes, and removable saddles. At 14-inches tall, our horses fit perfectly with any Glitter Girls doll.
Find everything for a mini stylist with the Glitter Girls' Hairplay collection! Choose from realistic salon playsets and dolls with colorful hairstyles for a trendy gift that's a cut above. The Glitter Girls have silky soft hair that's so fun for kids to play with! 
Bring the worlds of stuffed animals and dolls together with the Glitter Girls' loyal pals! This collection features plush pups and toy pet care accessories that will surely complement your child's doll collection. Every Glitter Girls pup has sparkling ears, and each of them come with a cute collar or a beautiful bow.