Dolls are a staple toy in many households, and for good reason! They give kids a feeling of empowerment, letting them create their own dazzling, imaginary worlds from scratch. Kids get to make their own decisions and expand their creativity, all while practicing critical soft skills like empathy, compassion, language, and emotional control. There's so much more to a doll than meets the eye! 
Here are 10 fantastic reasons why playing with dolls is good for kids: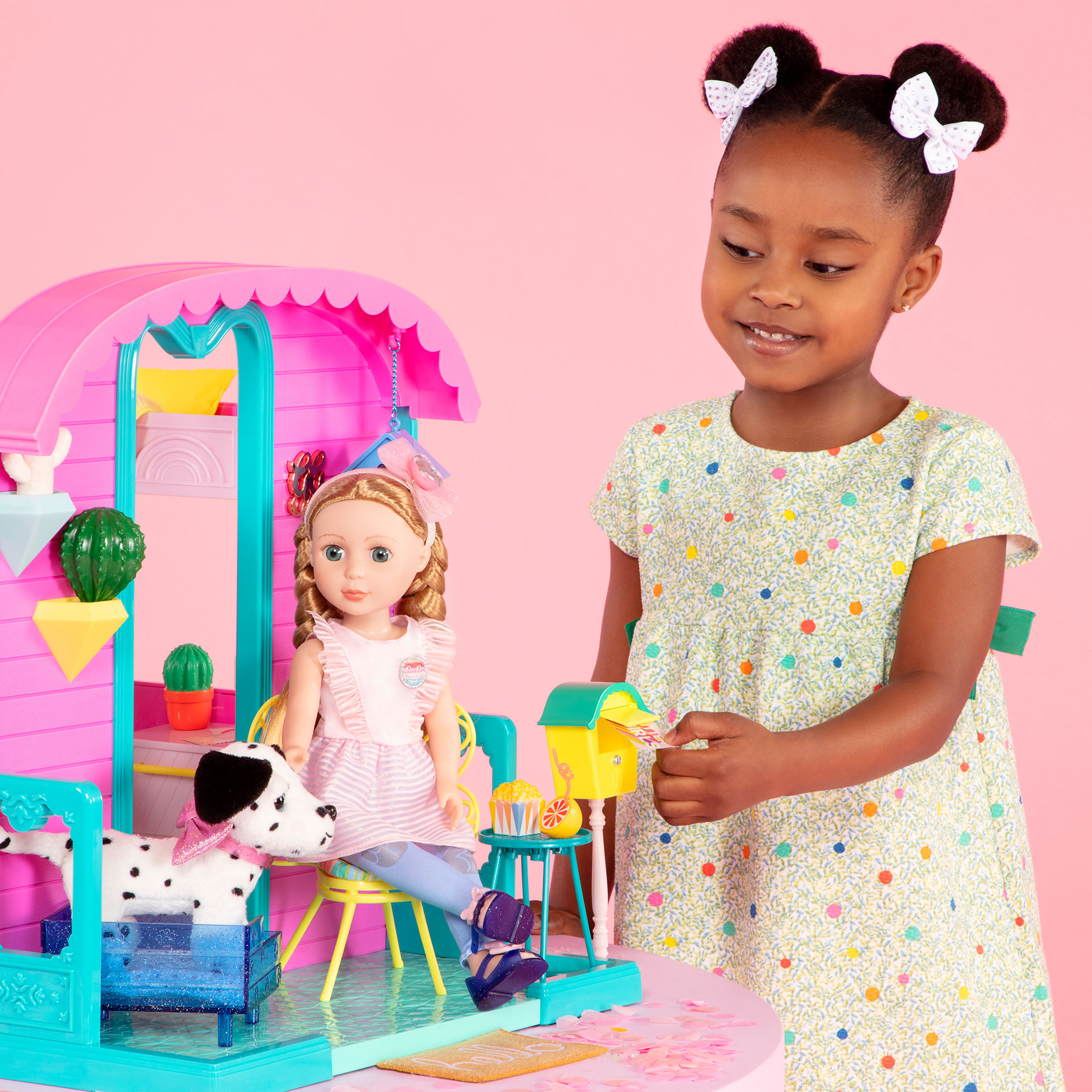 1. Dolls encourage creativity! 
With nothing but a doll in their hands, a kid can dream up a whole world of possibilities. That's because dolls are all about playing pretend. Some dedicated doll time will really get the creative juices flowing!
2. Dolls develop fine motor skills. 
That's right! There's more to dolls than imaginative play. Bending their arms, playing with their hair, changing their clothes, and playing with their small accessories helps kids develop dexterity.  
3. Kids "take care" of their dolls.  
Kids mimic the world around them and learn through play. By giving them a doll, they practice the nurturing skills they've seen in their parents (like feeding and clothing), giving them a new perspective and helping them develop their sense of empathy.  
4. Dolls help with language and vocabulary. 
Psst – dolls can't actually talk, but they promote a better vocabulary! Ask your kiddo how their doll is feeling, or what they're up to, and listen to the stories they tell. Kids will often spend hours making conversations between their dolls, too!  
5. Dolls teach kids self-soothing behaviors. 
Hugging and caring for their dolls helps kids manage big feelings like fear, anger, and excitement. When they take care of their dolls, they also learn how to take care of themselves! 
6. Dolls give kids independence. 
In their doll worlds, kids make every decision. They create intricate storylines and lifelike scenarios in which they can see themselves, helping them explore real-life concepts and boosting their self-esteem. Everything is up to them!
7. Kids identify with their dolls.  
Representation matters! Especially for young and impressionable kiddos. Kids see themselves in their dolls, so having a doll that looks like them gives them confidence in who they are! And that makes anything feel possible.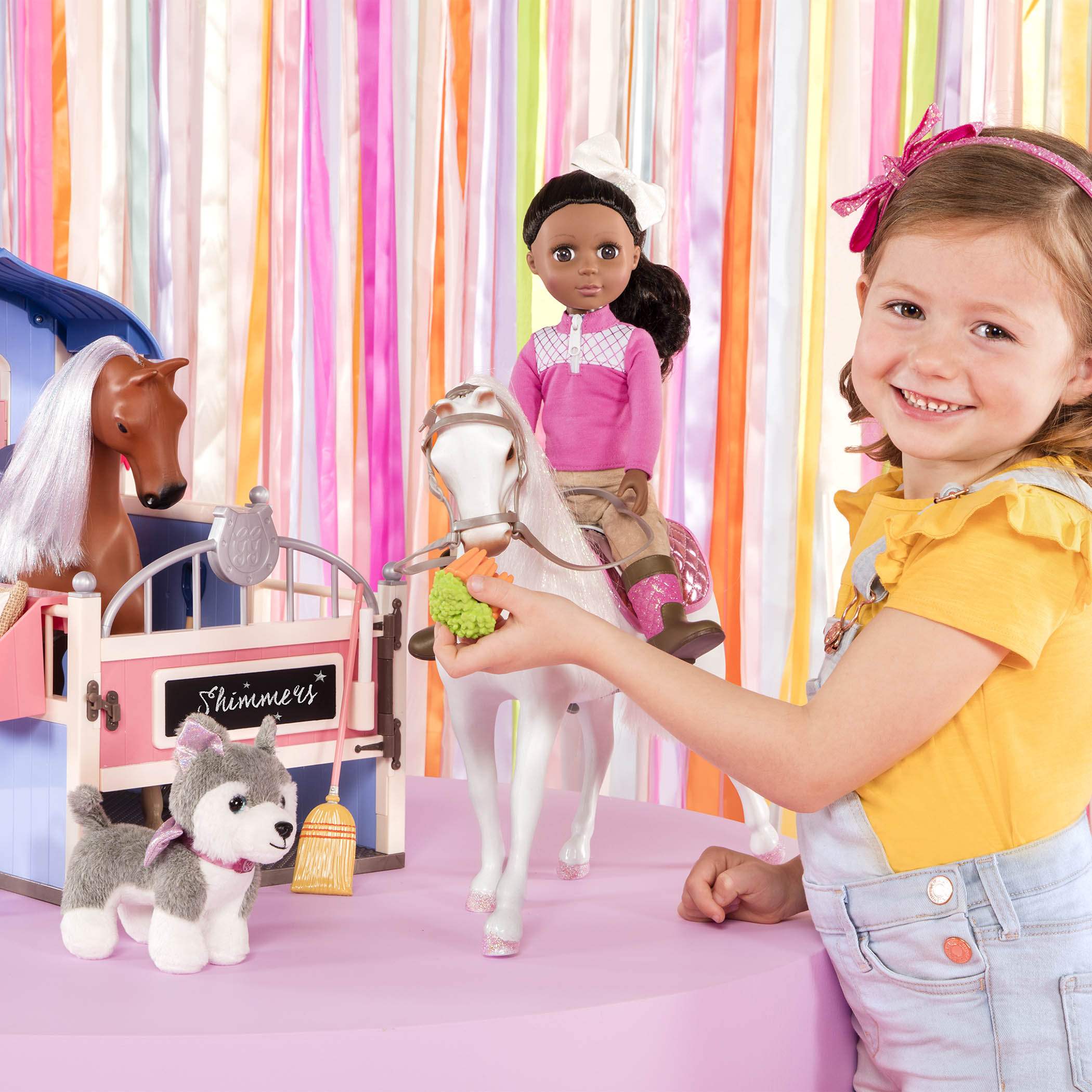 8. Dolls let kids be kids!
Dolls are completely unplugged, so kids can give playtime their full attention, free from the pressures of the outside world. With Glitter Girls, there's no need to grow up just yet! Kids can feel confident as the directors of their imaginary worlds. 
9. Dolls never go out of style!
While other toys may come and go, dolls are here to stay. They're so versatile and open-ended, so kids are never really "finished" playing with them – it's all up to their imaginations. Some kids may even play with dolls well into their pre-teens! 
10. Dolls are friends for life.
Kids form strong, personal bonds with their dolls. They serve as confidantes and give kids unconditional companionship! Those positive feelings will last, too, because they help older kids remember their childhoods with fondness.
All in all, dolls are more than toys. They're lifelong friends who help kids learn and grow! If there's a little doll lover in your life, you can rest assured that they're practicing all kinds of important skills during their play. Every day sparkles with Glitter Girls!
For more Glitter Girls fun, follow us on Instagram, TikTok, and Facebook @myglittergirls!
Check out all our glittering themes below!