Want to join the Glitter Girls in their Halloween celebrations? Well, you're in luck! This year, Luma, Nixie, and Duckie, along with Wiggles the poodle, have invited you to join them in their trick-or-treating. It's going to be a spook-tacular evening of decorating, dressing up, and getting all the best candy! Follow along and choose which way this Halloween story goes. The girls have their costumes ready, do you? Let's go! It's going to be fun.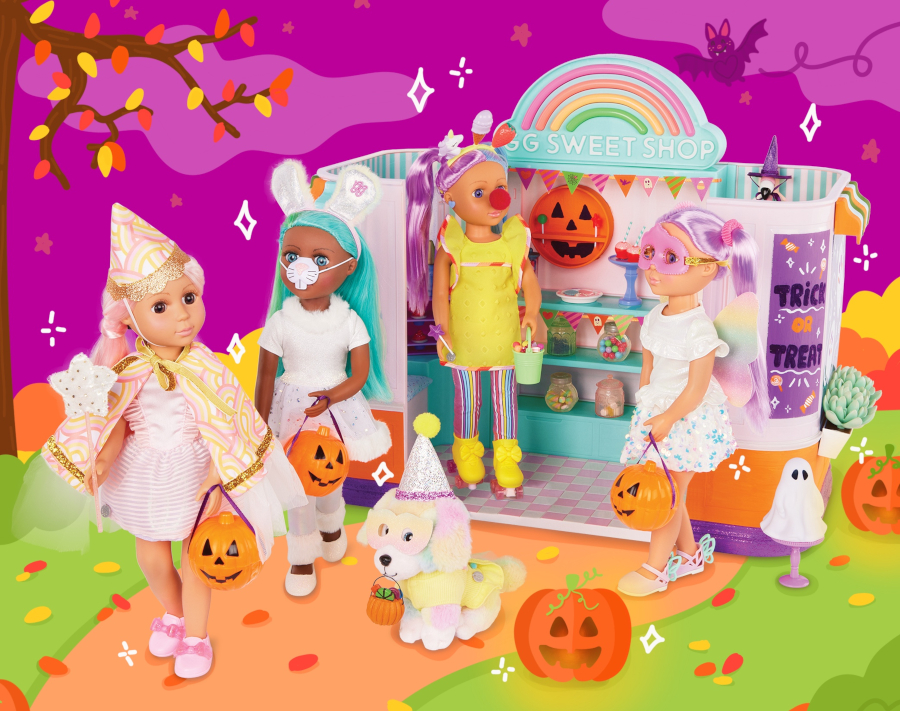 First things first: If you're going trick-or-treating, you'll need a costume! From ghoulish ghosts to colorful clowns, there are so many options to choose from. Are you in the mood for something spooky, something sparkly, or something silly? Remember, there are no wrong answers! Choose a costume below or create something new!  
How do you dress up for Halloween? 
a) A witch costume, complete with a pointy hat. 
b) A fairy costume, with sparkling wings and a pretty wand. 
c) An animal – like a cat, a dog, a giraffe, or even a unicorn! 
d) A superhero costume. Your power is limitless! 
e) A spooky ghost costume. Everyone loves a classic!
Nice look! Now that you have your costume ready, it's time to meet up with the Glitter Girls at the Sweet Shop. Nixie, Luma, and Duckie meet you at the door and invite you to decorate with them. They're so excited to transform the shop into a magical place. What do you think, should the Sweet Shop become a haunted house, a witch's hut, or a creature's cave? Whatever you choose, your GG pals are sure it's going to look amazing! 
What do you use to decorate the Sweet Shop? 
a) Fairy lights, lanterns, and candles! You love their warm glow. 
b) Big, fuzzy spiders, black bats, and spiderwebs! 
c) Tombstones, skeletons, and ghouls. You want to get super-duper spooky! 
d) A witch's cauldron, dusty books, and bottles of colorful potions.
e) Scarecrows, pumpkins, and bales of hay. Just like the pumpkin patch!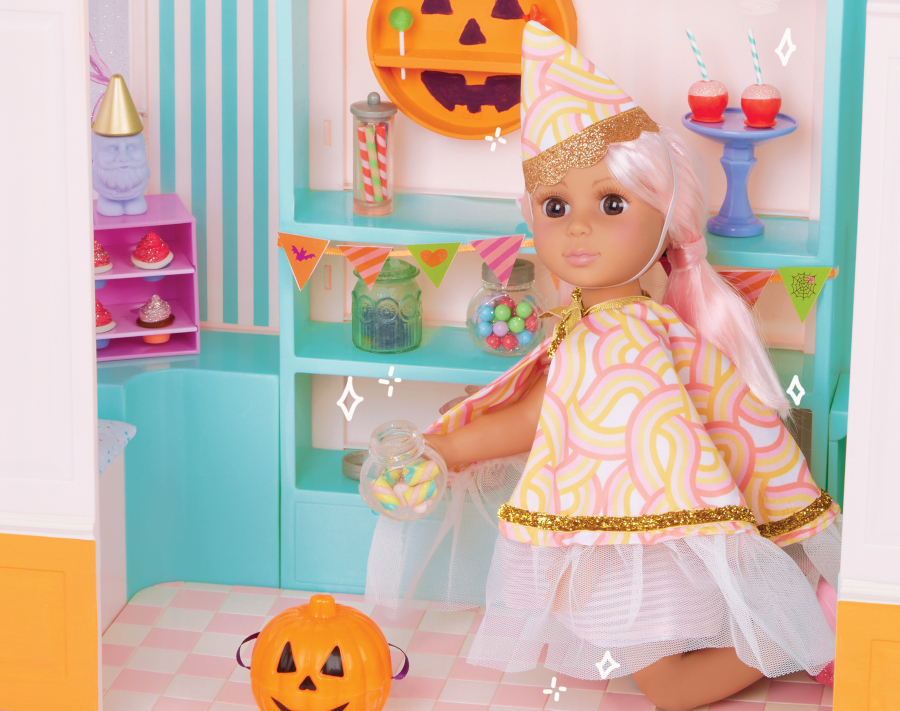 Wow, the Sweet Shop looks perfect! There's just one thing left to do before you head out with your friends. The Sweet Shop needs a jack-o-lantern! That way, kids will know that the shop is open. Nixie, Luma, and Duckie have brought four pumpkins out, so that everyone can carve their own. 
What does your pumpkin look like?
a) A happy pumpkin with a big toothy smile.
b) A pumpkin with the carving of a cat. Neat!
c) A painted pumpkin that looks like a fox – it even has ears!
d) A spooky pumpkin with a mischievous grin.
What a beautiful pumpkin! Now it's time to show off your costume and collect some candy. You could go trick-or-treating in the neighborhood, but there are some other fun activities going on nearby. The Glitter Girls aren't sure which one to pick! Everything looks so fun. 
Where will you go?  
a) The surrounding neighborhood. You want to say hi to all your neighbors! 
b) Stay at the Sweet Shop and give out candy to all the people who come! 
c) A haunted house. You love the thrill, the costumes, and all the decorations!  
d) Join the scavenger hunt at the local fair. Wiggles would love this one!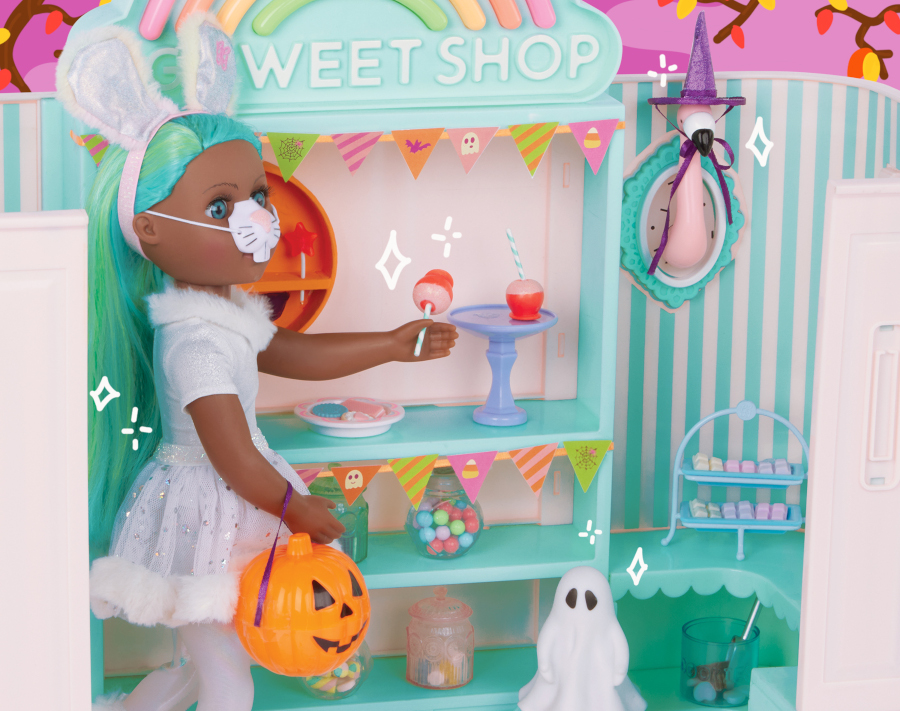 Great choice! And wow, you've got lots of candy! Your Halloween bag is chock-full of chocolates, caramels, lollipops, and gumballs you can't wait to enjoy. At the Sweet Shop, you and your Glitter Girls friends want to continue playing. The night is still young!  
How do you end the night with your friends?  
a) Trade candy and have a taste of what's new. Bone appétit!
b) Watch a movie! Bring on the blankets and pillows.
c) Stay dressed up and play together!
d) Make a Halloween craft. You love being creative!
What a dazzling and wonderful Halloween! We're so glad you joined your Glitter Girls friends on this very special day. Let us know which choices you made in this story by tagging @myglittergirls on Facebook, Instagram, and TikTok!
Witch-ing you a safe and happy Halloween!
Discover Glitter Girls 14-inch fashion dolls and playsets! The dolls in this story have soft, wonderfully colored hair as well as brushes, ties, and other stylish accessories for lots of hairplay fun. Wiggles is also very colorful, plus she comes with hair care accessories of her own!
Don't miss the Sweet Shop, either! This award-winning playset has an LED light, a cash register, and over 190 pieces of pretend candy. A great gift for kids who love sweets and treats!
Check out all our glittering themes below!